Kitchener Ontario was the place CanWest was to build it's second radio station. As the nearest CanWest entity, CHtv was chosen to spearhead the project. CH quickly recognized that, we might know TV, but we needed some radio expertise. CanWest executive Peter Viner, who had worked with Gary Hooper in the past, recommended his company HP Services.


"Gary and his crew are meticulous and delivered an extremely versatile,
incredible sounding and impeccably documented radio station.
We asked for quality, they delivered cutting-edge! Makes my job easy."
- David Jones - GM/Program Director - 91.5 The Beat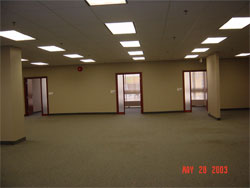 Gary met with CHtv General Manager Patrick O'Hara and myself and immediately convinced us that a 100% digital facility was the way to go. His ideas meshed with and fleshed out ours in a very complimentary way.

From getting us onboard with the best construction contractor for the job, to the tight and delicate integration with CanWest's I.T. department, the team at HP Services came through. As always, deadlines and budgets were tight. Format requirements and production wishes changed even as we built, but the HP guys flexed the design and kept moving onward.


The hardware was chosen and ordered mid November. The construction contractor turned over the space to to Gary and his guys by early December, and we were on air for the new year. Still some loose ends of course, but we made our air date thanks to the dedication and hard work of Gary, Ted and Trevor.

John R. Jarrett
Mgr. of Engineering, I.T. and Operations
CHtv Hamilton